Splintered
by
A.G. Howard
My rating:
5 of 5 stars
This stunning debut captures the grotesque madness of a mystical under-land, as well as a girl's pangs of first love and independence.
Alyssa Gardner hears the whispers of bugs and flowers—precisely the affliction that landed her mother in a mental hospital years before. This family curse stretches back to her ancestor Alice Liddell, the real-life inspiration for Lewis Carroll's Alice's Adventures in Wonderland. Alyssa might be crazy, but she manages to keep it together. For now.
When her mother's mental health takes a turn for the worse, Alyssa learns that what she thought was fiction is based in terrifying reality. The real Wonderland is a place far darker and more twisted than Lewis Carroll ever let on. There, Alyssa must pass a series of tests, including draining an ocean of Alice's tears, waking the slumbering tea party, and subduing a vicious bandersnatch, to fix Alice's mistakes and save her family. She must also decide whom to trust: Jeb, her gorgeous best friend and secret crush, or the sexy but suspicious Morpheus, her guide through Wonderland, who may have dark motives of his own
Reread this book again and have to say its just as amazing as the first time i read it. I really need to get around to getting the other books that follow and seeing what happens.
View all my reviews
Enclave
by
Ann Aguirre
My rating:
4 of 5 stars
New York City has been decimated by war and plague, and most of civilization has migrated to underground enclaves, where life expectancy is no more than the early 20's. When Deuce turns 15, she takes on her role as a Huntress, and is paired with Fade, a teenage Hunter who lived Topside as a young boy. When she and Fade discover that the neighboring enclave has been decimated by the tunnel monsters - or Freaks - who seem to be growing more organized, the elders refuse to listen to warnings. And when Deuce and Fade are exiled from the enclave, the girl born in darkness must survive in daylight - guided by Fade's long-ago memories - in the ruins of a city whose population has dwindled to a few dangerous gangs.
Ann Aguirre's thrilling young adult novel is the story of two young people in an apocalyptic world- - facing dangers, and feelings, unlike any they've ever known.
Picked this book up at random and from the moment i started it i was hooked. I loved the main character she always went on even when things looked there worse and i loved that she seemed to always have hope when others did not have any. I enjoyed the world that the author pulls us into. The way the people have changed and twisted it's dark and interesting.
View all my reviews
Pure
by
Julianna Baggott
My rating:
4 of 5 stars
We know you are here, our brothers and sisters . . .
Pressia barely remembers the Detonations or much about life during the Before. In her sleeping cabinet behind the rubble of an old barbershop where she lives with her grandfather, she thinks about what is lost--how the world went from amusement parks, movie theaters, birthday parties, fathers and mothers . . . to ash and dust, scars, permanent burns, and fused, damaged bodies. And now, at an age when everyone is required to turn themselves over to the militia to either be trained as a soldier or, if they are too damaged and weak, to be used as live targets, Pressia can no longer pretend to be small. Pressia is on the run.
Burn a Pure and Breathe the Ash . . .
There are those who escaped the apocalypse unmarked: Pures. They are tucked safely inside the Dome that protects their healthy, superior bodies. Yet Partridge, whose father is one of the most influential men in the Dome, feels isolated and lonely. Different. He thinks about loss--maybe just because his family is broken; his father is emotionally distant; his brother killed himself; and his mother never made it inside their shelter. Or maybe it's his claustrophobia: his feeling that this Dome has become a swaddling of intensely rigid order. So when a slipped phrase suggests his mother might still be alive, Partridge risks his life to leave the Dome to find her.
When Pressia meets Partridge, their worlds shatter all over again.
I really enjoyed this book such a great way to start the series. There was so much going on and the character all different and wonderful to follow i loved the fact the author gave you a chance to see from each person and get to really know them. I the book was so dark and twisted and i really loved that about it. i did have a few mishaps and lost my way a few times but i soon recovered and got pulled back into the book again.
View all my reviews
The BFG
by
Roald Dahl
My rating:
5 of 5 stars
Captured by a giant! The BFG is no ordinary bone-crunching giant. He is far too nice and jumbly. It's lucky for Sophie that he is. Had she been carried off in the middle of the night by the Bloodbottler, the Fleshlumpeater, the Bonecruncher, or any of the other giants-rather than the BFG-she would have soon become breakfast.
When Sophie hears that they are flush-bunking off in England to swollomp a few nice little chiddlers, she decides she must stop them once and for all. And the BFG is going to help her!
My daughter loved me reading the book to her. begging me to read a little more each night till we finished tonight she loved the loved the whole book and asked questions and the end blow her mind so pleased she seem to have the same love of reading and book that's i do.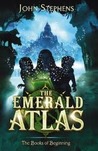 View all my reviews
The Emerald Atlas
by
John Stephens
My rating:
4 of 5 stars
They were taken from their beds one frozen night, when the world was covered in snow. The silhouette of a tall, thin man has haunted Kate ever since.
Ten years on, Kate, Michael and Emma have grown up in a string of miserable orphanages, and all memories of their parents have faded to a blur. Arriving at Cambridge Falls, the children quickly realise there is something different about this place - and Kate feels sure she has seen the dark, crooked house before.
As they explore, they discover an old, empty leather book. The moment they touch it, an ancient magical prophecy is set irrevocably in motion, and the children are thrown into a dangerous alternate reality of dark enchantments and terrifying monsters. Only they can prevent the terrible event that will ruin Cambridge Falls - and stop the world from falling into complete devastation.
I first read this book in 2011 and liked then and i thought i would reread the book and move onto the next book in the series which i have not read before. The book is so well done a great thought out storyline it was one of those stories that you really had to commit to and take you time with the story. The books story really shined for me and i enjoyed it. I did have a few times where i had to reread a page to be clear but other wish i found the book perfect. There is so much going on in the book that you can't get bored and i felt like while the book is pretty big it was needed that way each page was worth the time.
Over all really happy with the book and a great start to the series.
View all my reviews